Legal Medicine Blues
On March 2, 2001, a small benefit was held for IMMLY at Mother Fool's Coffeehouse in Madison Wisconsin. Among the performers were the Avalons, a duo consisting of Rick Harris and Mark Shanahan. After meeting IMMLY Founder Jacki Rickert that night, Rick Harris was later moved to compose a song, "Legal Medicine Blues," which you can listen to by clicking on the link below. In mid-March 2004 Rick Harris released his long awaited cd, Jukebox Refugee, which includes Legal Medicine Blues. Jukebox Refugee is available from Rick Harris.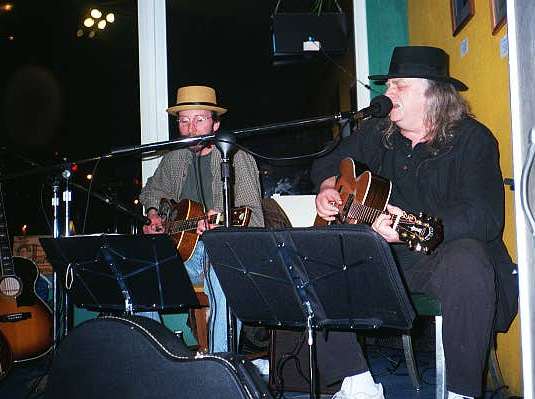 Avalons playing IMMLY Benefit gig, (L - Mark, R - Rick)
In his own words: Rick writes how he came to write "Legal Medicine Blues":
A while back a mutual old friend of Mark Shanahan and myself asked us to play a benefit gig for a friend of his. She, "Jacki" was a fellow member of a local group trying to promote the legalization of marijuana for medical use. Now I have to admit that this really wasn't MY issue, but we gladly said yes to the gig. Before we started I was introduced to Jacki and she was then seated directly in front of me. While we were playing I would make eye contact with her and she seemed to really be enjoying the music. All through the night I watched her. I suspected she was having a tough time physically, but she had such warmth and radiated a certain kind of strength. She really made a strong impression on me. A couple days later I was thinking about the benefit and about her and the whole legalization issue. I grabbed my guitar and wrote the lyrics in about one-half hour. I put it aside for a couple of days to get a little distance from it, then tightened up the lyrics and worked out a simple straight forward arrangement. My partner Mark Shanahan added some tasty guitar touches and we recorded !it."
Legal Medicine Blues
Words and Music By Rick Harris
(Copyright 2001-09 Rick Harris)

I take everything they give me
I take all their potions and pills
Now maybe they work - maybe they don't
Sometimes I get to feelin ill
But I've got my own prescription
Gets me through the day with a nod
My doctor's name is Mercy
My pharmacist's name is God

I got the when you gonna make
The medicine I take
Legal medicine blues
I thought this was America
Why aren't I free to choose?
Now don't you quote the law to me
If you do your gonna lose
I got the when you gonna make
The medicine I take
Legal medicine blues

It grows in the fields and on the farm
It grows in the valleys wide
It grows great out on the fire escape
It grows on the mountainside
Flowers and leaves up to the eaves
Sometimes it helps me see
If nature made it so easy to find
Why can't you let me be?

Chorus

Instr Break

Men and women of conscience
I really do need a friend
I never wanted to break the law
But I hurt too bad to pretend
Please listen you law makers
I'm reaching out my hand
You gotta realize you gotta legalize
Everybody say Amen

Chorus X3
Rick Harris "Legal Medicine Blues" at UW-Waukesha 02-22-10
Rick Harris-Legal Medicine Blues at Medical Marijuana Memorial and Lobby Day January 20, 2010
Wisconsin singer-songwriter Rick Harris performs his song, "Legal Medicine Blues" for Jacki Rickert and other attendees of an LED "candlelight" vigil for medical cannabis at the State Capitol in Madison that was organized by IMMLY.
Another view of Rick playing Legal Medicine Blues at the vigil:
Watch the Riddiough-Shanahan Band perform Legal Medicine Blues at IMMLY's 2007 Benefit at the Cardinal Bar!
In this video by Grant Strac, a clip of Jim MIller singing "Legal Medicine Blues" is cut with YouTube footage by Julie from WI of Rick Harris performing LMB at the June 7, 2009 vigil IMMLY organized at the Wisconsin State Capitol in Madison (original video above).
To order Rick Harris' cd Jukebox Refugee, with his song Legal Medicine Blues, send a check or money order for $11 to Rick Harris PO Box 622 Waukesha Wi 53187
Click below to listen:
Legal Medicine Blues
MP3 of Legal Medicine Blues
Copyright © 2001 Rick Harris
words and music by Rick Harris.
Song performed by the Avalons (Rick Harris and Mark Shanahan).