Raid at Jacki's!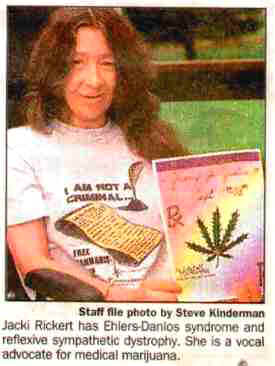 CLICK FOR LARGER IMAGE
This photo, taken in 1997, accompanied an article from the Eau Claire (WI) Leader Telegram, April 30, 2000, Abuse? Police Raid Vexes User Of Medical Marijuana
On March 13-14, 2000, while investigating a theft from Jacki, police officers showed up in the middle of the night and searched Jacki's house until 10 AM the next morning! Following are links to media reports about the raid:
It has been suggested in some reports that the paperwork Jacki Rickert's physician submitted to federal agencies for authorization to enter the Compassionate Use Medical Marijuana Program was somehow incomplete or that her approvals were only preliminary. The fact is she was fully approved for participation for both compassionate use and research in December 1990. Every approval was signed, sealed and delivered, IN TRIPLICATE. Dr. Wright's office already contained the 700-pound double-locking safe required for federal marijuana supplies.

Upon approval, Dr. Wright submitted the federal prescription and was awaiting the first delivery, which did not arrive as promised. Federal officials then claimed that they were "out of material (marijuana) but were growing more". Despite the hundreds of hours he spent dealing with the red tape in shepherding the application successfully through this arduous process, the government broke its contract and never delivered to Jacki the 300 marijuana cigarettes 8 surviving patients in the IND program receive each month to date.

Not too long before the 1992 presidential election, Jacki met with candidate Bill Clinton at a Clinton-Gore campaign stop in Osseo, Wisconsin. After discussing her situation and being handed a packet of approval documents, Clinton told Jacki he would reopen the program, saying "that's just terrible and if elected I will make it right". He assured her he'd read the documents "just as soon as I'm on that bus". Jacki responded "Sir, please don't say it if you don't mean it, I don't think I can stand it to have another bubble broken. I don't think I could take any more". His promise was apparently promptly forgotten. Now in March 2000, Jacki is subjected to a police raid of her home that left her traumatized and fearful.
"By the way, when he was running for President in 1992, Bill Clinton promised Rickert that if he was elected he would see to it that she got medical marijuana. If he had won, things would surely be different." -- Richard Cowan, MarijuanaNews.com, March 15, 2000
Had federal officials dealt honestly with Jacki and Dr. Wright from day one, she would have her medicine and could concentrate on maintaining her health instead of dealing with stressful police searches and their aftermath. Her medical necessity is well-documented.

These sins of omission by those who lacked the courage to keep their promises has led only to more victimization and pain to a brave woman who has already suffered far too much. It is an outrage that such disdain for compassion and the fragile health of Jacki can exist in this supposedly modern age. To willingly compromise the health of patients like Jacki in such a manner is immoral.
We are very pleased that the Buffalo County D.A. has taken Jacki's situation into consideration in deciding not to pursue the matter further, and he is to be commended for his compassion in acting to spare Jacki any further traumatization resulting from this incident.