June 6th DEA Protest in Madison
National Day of Direct Action June 6th
Sponsored by Americans for Safe Access
http://www.safeaccessnow.org/
Keep medical marijuana safe and legal!

June 6th was a nation-wide day of action to resist DEA assaults on medicinal cannabis dispensaries and patients.

Actions were held in 55 U.S. Cities. In Madison, the action was coordinated by Gary Storck, communications director of Is My Medicine Legal YET? and Jacob Davis and Madison Students for a Sensible Drug Policy.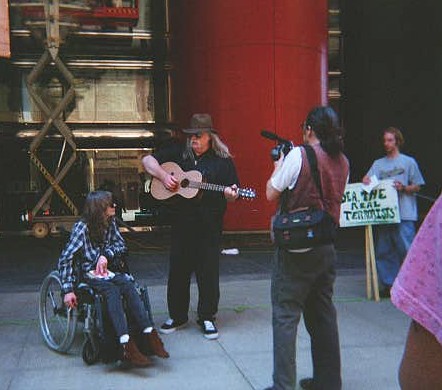 Rick Harris of The Avalons plays Legal Medicine Blues for Jacki and others at the event.
(CLICK for LARGER IMAGE)
Here are the details:

Rally and speakers at Noon City-County Bldg. at 210 Martin Luther King, Jr. Blvd. Madison WI for speeches by elected officials and others, then a march to the United States Courthouse at 120 North Henry Street, Madison, WI for speeches by patients and health care advocates.

Speakers (In order of appearance.)
City-County Building:

- Gary Storck, Communications Director, Is My Medicine Legal YET? (opening remarks and introductions)
- Rep. Mark Pocan (D-Madison)
- Ed Thompson, Libertarian Candidate for Governor
- Madison Ald. Brenda Konkel
- Madison Ald. Judy Olson
- Stephanie Rearick, Chair, Progressive Dane Drug Policy Task Force
Federal Courthouse:
- Bob Schwoch, AIDS Resource Center of Wisconsin
- Barb Vedder, former Madison Alder
- Jacki Rickert, Patient, Activist, Founder of Is My Medicine Legal YET?
www.immly.org, Buffalo County chairperson for Ed Thompson for Governor
In addition, Rick Harris of the Avalons performed his song, "Legal Medicine Blues" at both the City County Building and the Federal Courthouse.

IMMLY Press Release for event